awalde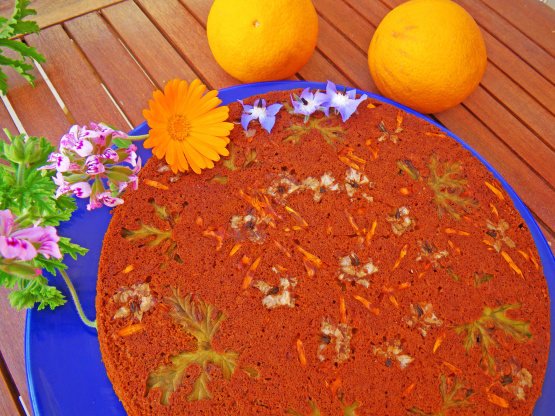 Impress your friends by decorating your cake with some beautiful, edible flowers and leaves . For this recipe you can use any clear cake recipes.

This recipe was beyond my baking abilities but it was fun to make nevertheless.
I didn't know what baking foil was so I used parchment paper. Most of the flowers
sank to the middle of the batter during baking unfortunately. We liked the flavor of the
cake recipe given. I used a variety of flowers and flowering herbs: violets, spray roses, lemon verbena, etc. I would *not* recommend using the flowers from mint. It completely overpowered everything. All I could taste was mint, mint and more mint. My fault! Thanks for posting. It is a lovely recipe! Reviewed for NA*ME tag.
Decoration

fresh edible flower, and edible leaves

Dough (you can use your recipe as well)

50

ml milk (1/4 cup)

150

g sugar (ounces)

1

prinche salt

3

eggs

175

g flour (6 ounces)
1⁄2 teaspoon baking powder
1⁄2 teaspoon vanilla powder
Cover the bottom of your mold with baking foil and grease the sides and the bottom, too.
Adjust leaves and flowers on the baking foil and fix them pressing them lightly.
Make the dough mixing all the ingredients with the food processor until smooth.
Pour dough carefully into the prepared mold.
Bake 180°C (350°C) for 45 minutes or until through.
The cake is done when you test the centre of it with a wooden skewer and the skewer comes out clean. Gently loosen the sides of the cake with a knife, and turn it out immediately onto your cake dish. Remove carefully the foil using the point of the knife if necessary.