jkarenj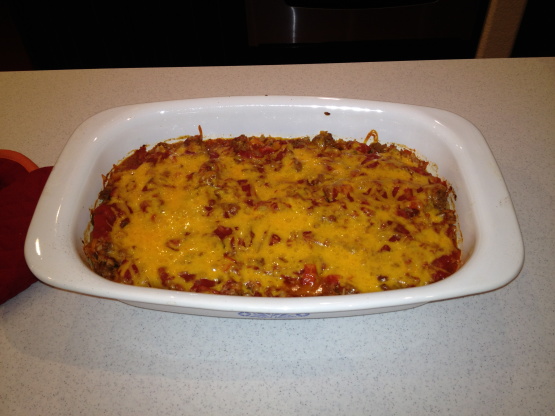 Recipe off a card from Kroger...looked good so I had it and now that I'm organizing my recipes I'm putting it here for safe keeping.

Great recipe. Used quinoa instead of rice. Used ground turkey instead of beef. Added 2 zucchinis as well. Turned out really good and freezes well. Thanks for posting.
Preheat oven to 375 degrees.
Saute ground beef, onions, peppers and garlic for 10 minutes, or until beef is browned and vegetables are tender. Drain off excess fat and season with salt and pepper.
Stir in the tomatoes, rice, Worcestershire sauce and Italian seasoning. Remove from heat; stir in 1 cup of cheese.
Spread mixture evenly into a 13x9-inch baking dish and top with tomato sauce and remaining cheese.
Bake uncovered for 20 minutes, until heated through and cheese is melted and bubbly. Let stand 5 minutes before serving.
Store any leftovers in the refrigerator.