Unstuffed Green Pepper Soup
loof751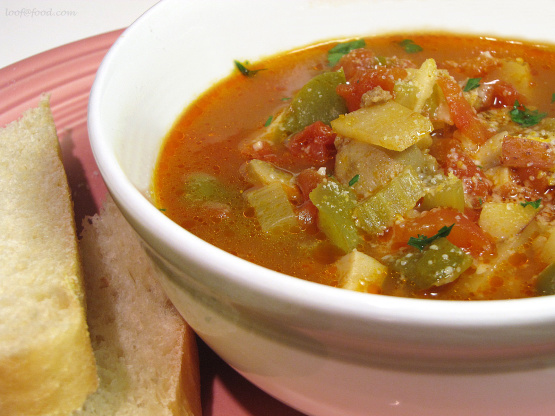 We love stuffed peppers and had stuffed pepper soup in a restaurant that was very good. This is my version of the soup we had and enjoyed.

This soup was a pleasant surprise; easy to make, filling and delicious! To lighten this a bit I used turkey sausage instead of ground beef and only half the amount; I made up the difference with quartered fresh mushrooms which I sauteed with the other veggies. I was surprised by the addition of the cinnamon - the flavor was subtle but you could really notice it in the aroma of the soup. Thanks for sharing your recipe!
In a large dutch oven over medium heat add the oil, onion, celery, and green peppers.
Saute until just tender, stirring frequently.
Stir in ground beef to onion mixture and cook approximately 15 minutes or until the meat is browned and no longer pink.
Add uncooked rice and mix thoroughly.
Slowly stir in tomatoes, V-8 juice, 6 cups vegetable broth and diced potatoes.
Season soup with brown sugar, cinnamon, salt and pepper and cover with lid.
Let soup simmer slowly for one hour or until potatoes are fork tender.
Ladle soup into bowls and serve with fresh baked bread or hard rolls.