Unstuffed Cabbage Roll Casserole
Redsie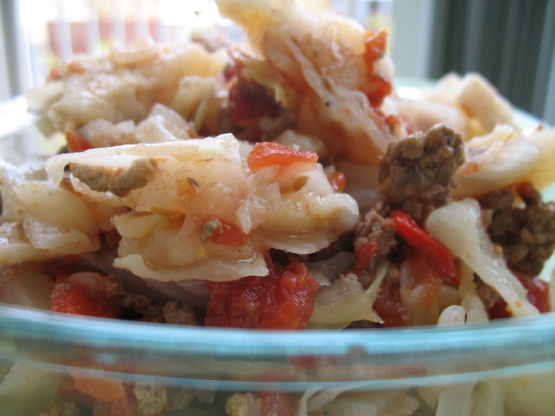 From a free Penzey's recipe card... Edited 3/24/08 to add that I have now made this recipe for the first time. We really liked it, but found it a bit bland, so I doubled the amounts of vinegar and brown sugar and also added some ketchup to jazz it up a bit. Definitely a keeper, though!
In a large skillet, brown the ground meat and drain off any grease. Add the chopped onion and cook for about 3 minutes, until the onions are softened.
Add the cabbage and water and cook for about 5 minutes, or until the cabbage starts to wilt.
Add the tomatoes, brown sugar, vinegar, salt, caraway seed and garlic. Bring to a boil, reduce heat and cover.
Simmer until the cabbage is cooked to the desired tenderness, about 30 minutes. Serve with white rice.