Unruly Shrimp Under the Influence of Asia
ImPat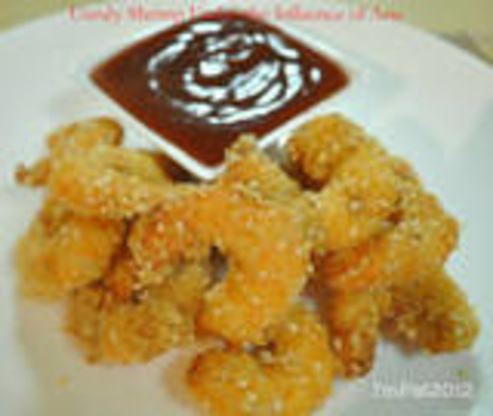 Never boring and somewhat unruly, these shrimp are fun to share. So slap an apron on the cabana boy and have him come join you in the kitchen.

OK, unruly shrimp creator, these were lovely! The marinade imparts a lot of flavor, before the frying seals the deal! I was on the fence about the dipping sauce, but, I did find the flavor interesting. I was wondering if the cabana boy slipped a little something in the sauce ;-) ! Thanks for sharing, cookiedog. Made for ZWT.
In a small bowl, rub the rub/marinade ingredients on the shrimp and let sit for 15 minutes.
Beat an egg and add to the shrimp.
In a small bowl, mix the cornstarch, flour, Panko, and sesame seeds.
Dip the shrimp into the coating mixture and let sit for 5 to 10 minutes to set.
Fry shrimp several at a time over medium-high heat until golden brown. Be careful as this takes only a minute or two. Drain on paper towels.
Dipping Sauce: Mix ingredients in a small saucepan over medium heat stirring constantly until sauce smooths and thickens.