Keilty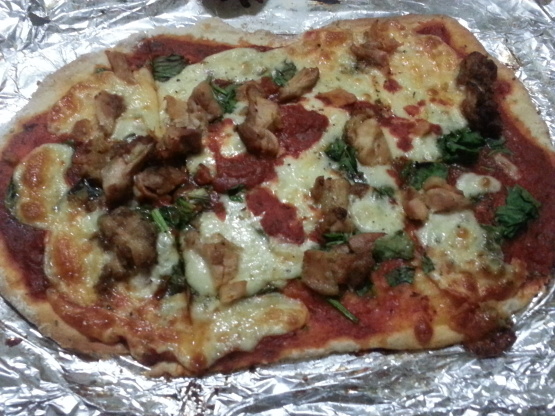 Don't know how authentic this is, but I do love Uno's pizza so I intend to try this soon. Although, the recipe doesn't say, I bake my pizzas at 450 degrees for about 10 to 12 minutes.

Never had an Uno pizza so I can't comment on its authenticity. But this is a good pizza base which makes two good sized pizzas. DH found this a bit soft and undercooked for his liking so ifyou are a fan of thick toppings it may pay to part-bake the dough first.
Directions for electric mixer: Add water, brown sugar and yeast to a bowl and stir.
Let sit 5 minutes until creamy.
Add milk, butter, oil, salt and corn meal to yeast mixture and mix for 30 seconds.
Add 2 1/2 cups of flour and mix with paddle for 5 minutes on speed 2.
Scrape the sides of the bowl and form dough into a ball.
Pour remaining flour (1/2 cup) around the outsides.
Use dough hook and mix for for 5 minutes on speed 2.
Remove dough from mixer and place in well greased glass bowl.
Place damp towel on top of bowl and let rise in warm spot for 1 hour or until double in size.