Hey Jude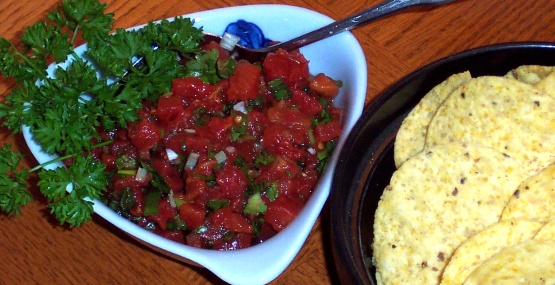 This simple recipe makes one of the best salas. Simple to make though,mellow time is 8 hours.

I'd never made salsa from canned tomatoes before and I have to admit that I'm really pleasantly surprised. This salsa is so quick and easy to throw together and it tastes great! I made it as written using 2 large green onions and real garlic (as opposed to the powder). We had this with chips and everyone was happy. Also, it's not real spicy, which pleased a couple of members of my family. If you like your salsa really spicy, I'd advise adding some Tabasco. Thanks for the recipe Barb, I'll be doing this one again for sure.
Drain, most of the liquid from tomatoes, discard liquid.
Mix tomatoes with green onions, cilantro, garlic; Cover and refrigerate eight hours or overnight, to tame the jalapeno fire and blend flavors.
Serve with chips or use with Fajitas, etc.