Unleavened Chocolate Mint Cake Brownies
Banriona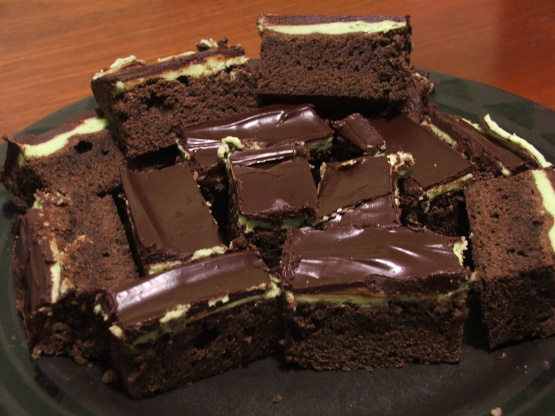 Our favorite brownie recipe for the Spring Holy Days. These are incredibly rich - a little goes a looong way!! They taste just like the Ande's mints, but in brownie form.

I'm sorry but for using almost a pound of butter and 4 eggs.. I was really hoping for something that tasted good. The brownie is more like a very very dry cake. The mint part is just butter, sugar and flavoring. We'll eat the whole pan so as not to waste the butter, eggs and cocoa, but really, this was not very good. I have made other similar recipes that had a much better brownie. Sorry.
Cream sugar and butter well. Add beaten eggs, flour, cocoa and salt and mix until thoroughly combined. Bake in a greased 13x9 pan at 400F for 25 minutes.
While brownies are baking cream together the confectioners sugar, peppermint extract, softened butter and as much food coloring as desired in a bowl and set aside. Spread on brownies after they have cooled in the pan for 15 minutes.
When brownies are completely cool, melt together the chocolate chips and 6Tbsp butter. Spread immediately on top of mint layer of brownies. Chill until set, but soft enough to cut. If chocolate is too hard it will crack and make it difficult to cut brownies squares.
Slice brownies into 2" x 1" squares.