Banriona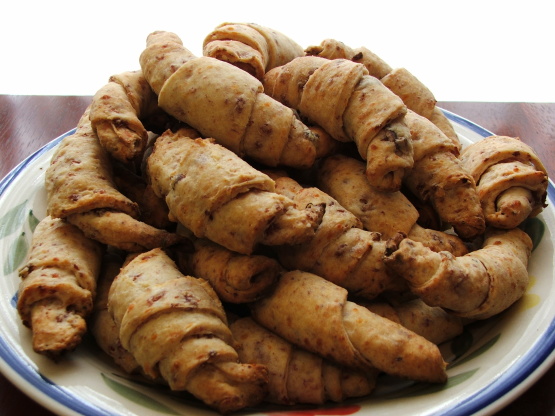 These were the first 'unleavened breads' I ever ate. I make it a point to only make them for the Days of Unleavened bread or I'd eat them all day every day. Thank you Peggy for giving me the recipe (although I've altered it a bit)!!!! Wouldn't be ULB without it. **Prep time does NOT include chilling overnight**

Definitely unusual for me to make this, but I did follow the recipe right on down, then served the butterhorns with a side 'dip' of homemade pasta sauce! This is certainly a keeper recipe, as we both loved every single bite! Thanks for sharing it! [Made & reviewed in New Kids on the Block tag]
Measure flour into a large bowl and cut in butter. Add remaining ingredients. Form into a ball and wrap with plastic wrap; chill overnight.
Divide ball into 3 portions and roll each portion into a 12" circle. Cut each circle into 12 wedges and roll up, beginning with the wide end. Place each on a lightly greased baking sheet with the point tucked under.
Bake at 375F for 20 minutes.
Note: You can replace the cheddar with mozzarella and the snack bites with turkey pepperoni for a 'pizza' butterhorn. When making these I like to put a thin layer of pizza sauce on the dough before rolling up the triangles.