Banriona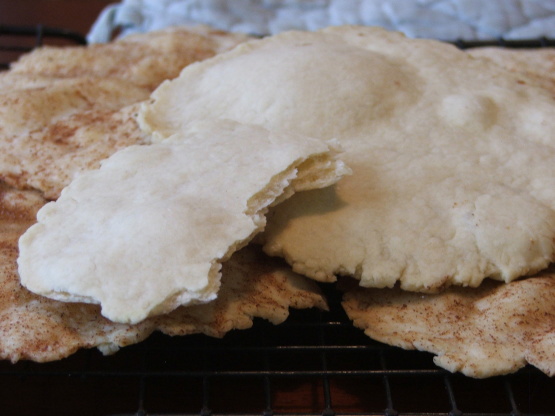 Darlene Kossman made this for passover meal April 15th, 1987. It took 5 people to make 2 batches = 100; one big one on cookie sheet for pastor. Figure to cut in 3 parts Helen, 2 Wilma, 2 Phyllis, 2 Darlene, 1 pastor. 60 circles without Phyllis (these are notes on recipe). It has egg in it; that seems like leavening to me but this is the recipe she had.

A bit bland for our tastes. We dusted some of them with a combo of butter, cinnamon and agave nectar and that helped a little on the taste. Very flaky though. Technically speaking eggs/egg whites are not leavening because they don't spread through the dough.
Mix flour, water, olive oil, salt and egg together.
Make 10 balls.
Roll out like pie dough (is sticky) into 4 inch circles.
Bake at 375 degrees Fahrenheit for 10 minutes; better at 350 degrees Fahrenheit for 15 minutes.
For most ovens will brown some on bottom and sides but not top.