Unknownchef86's Simply Baked Yams or Sweet Potatoes
ImPat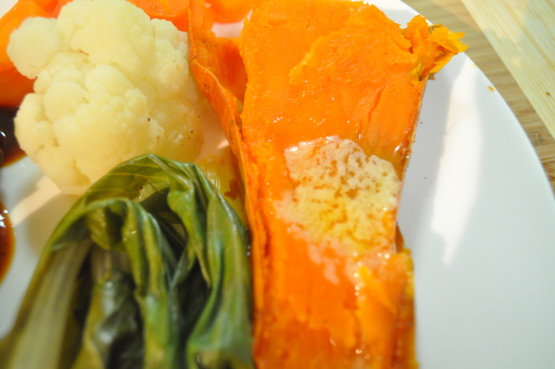 Simple, yet delicious. Humble, yet elegant. If you've never tried baked yams (or sweet potatoes) before, you should. They're a delightful change from the usual veggie. I've never really cared for yams or sweet potatoes, as my mom always served them whipped with marshmallows on top. Nothing wrong with that dish....it just wasn't my style. But this...this I can get behind 100%.

Great way to serve of up this tasty veggie! I do like them all sweet & fruity during the winter holidays, but enjoy them the rest of the year in various ways, & your recipe gives me yet another way to serve them! I didn't, however, peel 'em, as we love that part of the yam as well! Thanks for sharing the recipe! [Made & reviewed in Healthy Choices ABC recipe tag]
4

garnet yams (I prefer the garnet yams) or 4 sweet potatoes (I prefer the garnet yams)
butter, to taste
Wash the yams/sweet potatoes and pat dry with a paper towel.
Lightly oil the skins of the yams/sweet potatoes with the olive oil.
Bake at 400 degrees for approximately an hour, or til tender.
Carefully peel the skins off of the sweet potatoes and serve with butter.