Unknownchef86's Lemon-Pepper Chicken (Sbd Phase One)
teresas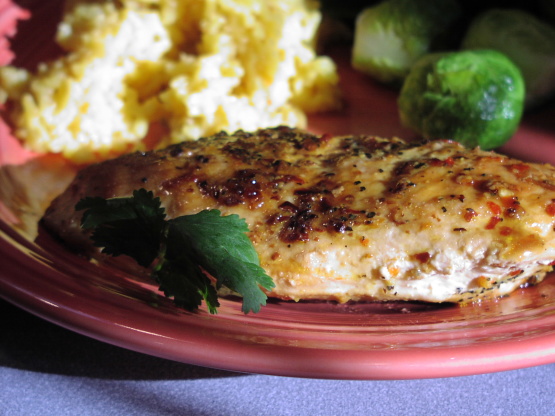 This is a tasty, easy way to serve chicken when you are on the South Beach Diet...and even when you're not on the diet! It's on the spicy side, but amounts of spices can be adjusted according to taste. Cook time is an estimation.

Wow! This is spicy...just the way we like it. There isn't a measurement for the spices so you are on your own. I did use 1 tsp of red peppers and added a bit more during step 3. The chicken came out nice and moist. Must have something to do with the cooking technique. This is really quick and easy to prepare. Chicken hating DH loved it. Thanks for posting. :)
Put the frying pan (preferably cast iron) over medium heat. Drizzle the oil in the pan. You can use more or less oil, as needed -- you just need enough to lightly coat the pan.
Saute the red pepper flakes in the oil -- brown, but don't let them burn.
Add the chicken breasts to the pan and generously sprinkle the spices over, to taste. Cover with a tight-fitting lid and turn to medium-low.
After approximately 3-5 min, lift the lid and drizzle about a tablespoon of water into the pan. Re-cover and turn to medium low.
When the breasts have turned opaque on top (approximately five minutes -- time will vary), turn over and re-season with just the lemon pepper and the garlic.
Recover and continue to simmer til done -- approximately 5-10 minutes, adding a teaspoon or two more water if necessary.
Drizzle any remaining juices on top of the chicken when serving.