Unfried Crispy Baked Beet Chips (Low Fat)
gailanng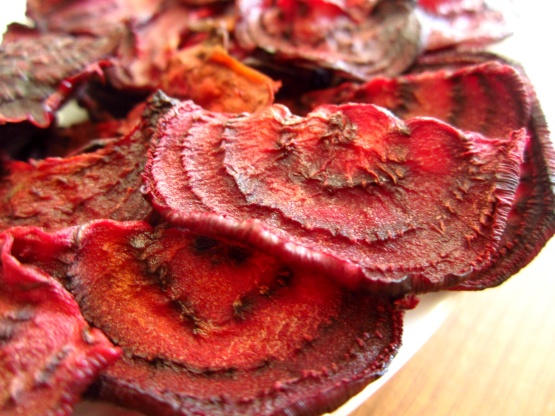 A healthier and lower calorie alternative to potato chips and the fancy veggie chips available because these are not fried! These beet chips make a wonderful (and pretty!) snack. Good for packing in a lunch, serving at parties or just nibbling on. These are chips you can feel GOOD about eating. :)

I've never really had beets and this was easy and tasty. Salty and sweet. You really need to keep the beets evenly sliced and watch them because they will burn. Thanks for posting and I will be making this again!
Preheat oven to 325 degrees F.
Using the slicing blade of your food processor, a mandoline or a sharp knife, slice beets thinly. You want them to be the size of a potato chip.
Spread evenly on a cookie sheet, spray with nonstick spray and season with salt.
Roast 45 minutes to 1 hour, turning halfway through, until crisp. Check often to make sure they don't burn. you may need to roast for a shorter or longer period of time depending on your oven and how crisp you want them - so keep an eye on them. :).
serve as is, or with sour cream or another favourite dip.