Uncle Tom's Appetizer Meatball Sauce
Leslie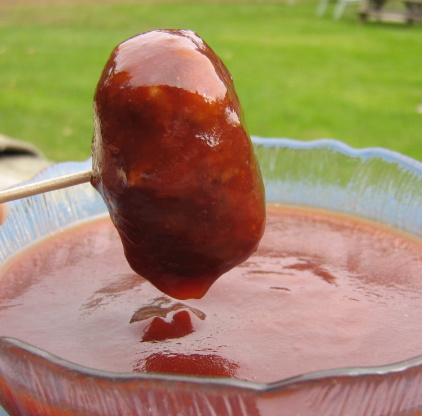 A Saskatchewan Roughrider recipe that never fails to please. Surprisingly this ketchup based sauce empties long before the other offerings and always an empty platter. So simple ... so good! I love this sauce using our Canadian Diva's Appetizer Meatballs. Recipe courtesy of Tom Whitehouse. Use freshly prepared meatballs or prepared frozen. These can be made and ready to use at a moments notice!

Excellent!! I did make a couple of changes though. Used Chili Sauce instead of catsup and brown sugar instead of white. A nice flavorable and easy sauce that was a compliment to the meatballs thanks so much for posting
In a medium sauce pan mix ingredients and simmer til blended, add your prepared meatballs and simmer about fifteen minutes.
Looks exceptionally appetizing served on a white platter with a tooth pick set in each meatball.
I assure an empty platter!