Uncle Bill's Vegetarian Minestrone Soup
A hearty and healthy soup. Excellent on chilly days. Very easy to prepare.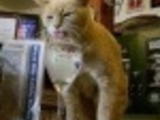 Yum yum! A very warming and tasty minestrone with lots of zucchini (a plus!) It is also very tomato-ey, so if you love tomatoes you will enjoy this very much. My only suggestion is to cook the celery a little longer (with the onions maybe?) so they become more tender. I had to cook my soup awhile more until they softened. Also added some fresh spinach and basil from the garden. Thanks, Uncle Bill. [Made for All You Can Cook Tag]
Heat oil in a large saucepan over medium-high heat.
Add chopped onion and sauté for 4 minutes or until just lightly browned.
Add water, zucchini, carrots, canellini beans, celery, basil, oregano salt, pepper, tomatoes and garlic.
Bring to boil; reduce heat, cover and simmer on medium-low heat for 25 minutes, stirring occasionally.
Add macaroni, cover and cook an additional 10 minutes.
Adjust spices to suit your taste.
Serve hot.