Uncle Bill's Vegetarian Minestrone Soup
Prep 15 mins
Cook 40 mins

A hearty and healthy soup. Excellent on chilly days. Very easy to prepare.
Directions
Heat oil in a large saucepan over medium-high heat.
Add chopped onion and sauté for 4 minutes or until just lightly browned.
Add water, zucchini, carrots, canellini beans, celery, basil, oregano salt, pepper, tomatoes and garlic.
Bring to boil; reduce heat, cover and simmer on medium-low heat for 25 minutes, stirring occasionally.
Add macaroni, cover and cook an additional 10 minutes.
Adjust spices to suit your taste.
Serve hot.
Reviews
Most Helpful
Yum yum! A very warming and tasty minestrone with lots of zucchini (a plus!) It is also very tomato-ey, so if you love tomatoes you will enjoy this very much. My only suggestion is to cook the celery a little longer (with the onions maybe?) so they become more tender. I had to cook my soup awhile more until they softened. Also added some fresh spinach and basil from the garden. Thanks, Uncle Bill. [Made for All You Can Cook Tag]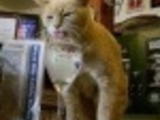 Uncle Bill, this is fantastic. I followed your recipe exactly but I used vegetable stock instead of water because I had some I needed to use up. My husband takes soup for lunch in the winter and he raved about this when he came home. Thanks for another great recipe.

My 11 year old daughter is a vegetarian, and it can be challenging to find recipes that the rest of the family will eat along with her (besides pasta and pizza). Other vegetarian soups sometimes call for veggie stock, which is vile (seriously, google it, it is gross). This just has the fresh veggies and canned tomatoes, beans and pasta. Delicious, and my husband liked it (he hates veggies). We served with parmesan to sprinkle and crusty bread and butter. A definite keeper.
Get Healthy Your Way