Uncle Bill's Simple Jerusalem Artichokes
Barb G.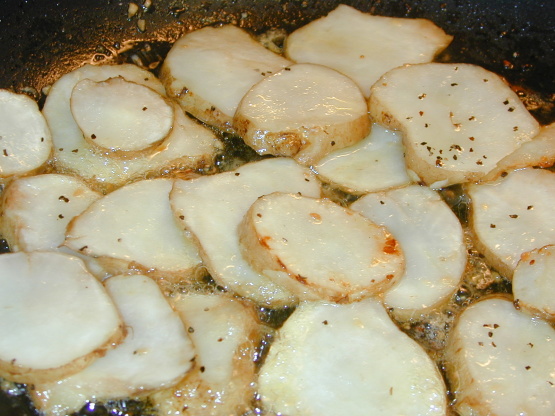 I grow my own Jerusalem Artichokes and this year they grew well and are in abundance. Also very clean with small nodules on the main potato-like root.

This is a great recipe, however it leaves out one very important step that is required to treat the sunchoke root before cooking or serving it. Because the roots contain inulin which cannot be digested in its raw state, the roots must be parboiled first. If you don't parboil them for about a minute then you'll experience the gas and bloating that comes from the indigestibility. To parboil them properly, first bring a pot of water to a rolling boil, then drop the roots into the boiling water for at least a minute. Then take them out to cool before finishing your preparations. At this point you can slice and dice them for salads, for roasting, or sauteeing. You can skip this step if you plan to bake them or use them in soups and stews. Sauteeing is not a hot enough process to convert the inulin to a digestible state. I hope this helps!
Scrub or peel artichokes.
Slice each artichoke to 1/4 inch thick slices.
In a Wok or frying pan, heat olive oil and butter on medium-high heat.
Add sliced artichokes, garlic, salt, pepper and parsley; stir well to coat artichokes.
Stir-fry for about 4 minutes, stirring often.
Do not overcook artichokes, they should be slightly crunchy.
Serve immediately.