Uncle Bill's Open Face Hoagie With Cream Cheese and Black Olives
Bergy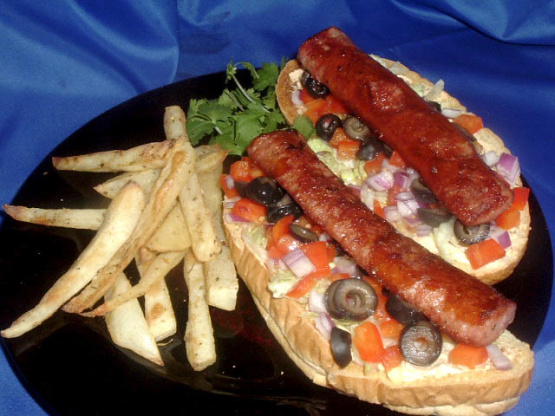 My DW and I have been experimenting to make an open face sandwich that is real yummy with a bowl of soup. This sandwich is totally vegetarian, but can be made with other items of your choice.

Bialys replaced hoagies, sun-dried toms for red bell [out of bells)' Nancy's plain cream cheese, red leaf lettuce for iceberg and homemade Italian dressing. Perfect for the warm months as it requires no heating. We added a few fresh basil ribbons to our sandwiches. Thanks for posting. Added to our sandwich rotation.
1

hoagie roll, with sesame seed

2

teaspoons butter

4

tablespoons cream cheese (Philadelphia Roasted Red Pepper, suggested)
1⁄2 cup finely shredded iceberg lettuce

2

tablespoons finely chopped red onions

4

tablespoons finely chopped sweet red peppers
1⁄4 cup sliced small pitted black olives
italian herb salad dressing
salt and pepper
Cut Hoagie bun in half lengthwise and toast lightly.
Spread butter evenly on each half bun.
Spread cream cheese evenly on each half.
Spread lettuce evenly on each half.
Spread chopped onions evenly on each half.
Spread sweet red pepper evenly on each half.
Spread sliced olives evenly on each half.
Now drizzle with Italian herb dressing to your taste.
Sprinkle salt and pepper to your taste.
If desired, you may also layer some thinly sliced black forest ham.
Also some shredded carrot makes for a very nice taste.
This recipe doubles or quadruples very easily.