Uncle Bill's Microwave Potato Wedges
Sageca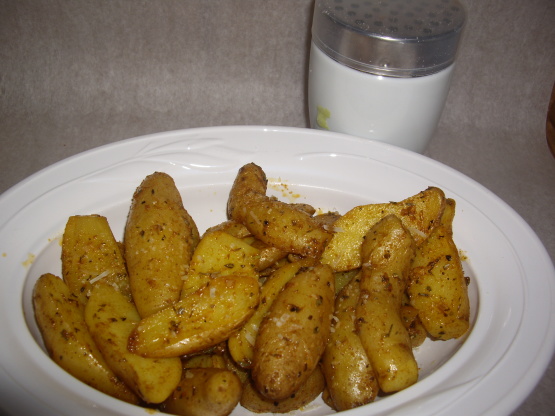 After a lot of experimenting, I came up with this easy to make and very tasty recipe.
In a mixing bowl, combine olive oil, Italian seasoning, paprika, salt, and garlic powder; mix well to blend.
Scrub potatoes well.
Cut potatoes lengthwise into eight wedges.
Drop potato wedges into seasoning mixture and toss to coat.
Arrange potato wedges in a 9" x 13" microwave-proof casserole dish.
Pour remaining seasoning mixture over potatoes.
Microwave on HIGH (full power) for 8 to 10 minutes or until tender; turning wedges over at half time of cooking.
Remove from microwave and sprinkle with grated parmesan cheese.
Serve hot.