Uncle Bill's Cranberry Squares
Derf2440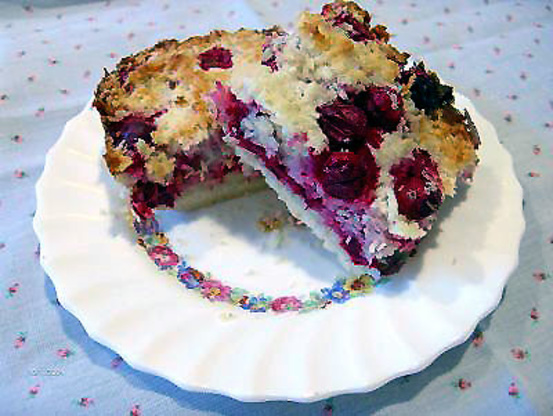 Cranberries are in season and this recipe is a great tasty treat especially with fresh cranberries.

Top Review by Pixie
Excellent! Yummy combo of sweet and tart. I only buy unsweetened coconut, so that is what I used and it seemed to work well. I didn't need the full baking times stated, but I think that is likely because of the type of pan I used. This is definitely a recipe I will be making again. Thanks for posting!
BASE Preheat oven to 325 F.
Butter a 13" x 9" oven-proof baking dish.
In a food processor or blender, pulse flour, sugar, salt and butter and whirl until crumbly.
Spread into prepared baking dish and pat down lightly.
Bake uncovered in preheated 325 F oven for 20 minutes.
Scatter cranberries over warm baked base.
Sprinkle over with shredded coconut.
In a medium-size mixing bowl, whisk together eggs, sugar and lemon juice until well blended.
Gradually whisk in flour and baking powder.
Pour lemon mixture over top (it will spread to fill dish during baking).
Bake uncovered in preheated 325 F oven for about 55 to 60 minutes or until middle is set and edges are golden.
Cool before cutting.
Cut into 3" x 1 1/2" squares.
Store in an airtight container at room temperature for up to 4 days or you may freeze the squares.