Uncle Bill's Chicken Soup
Rootsman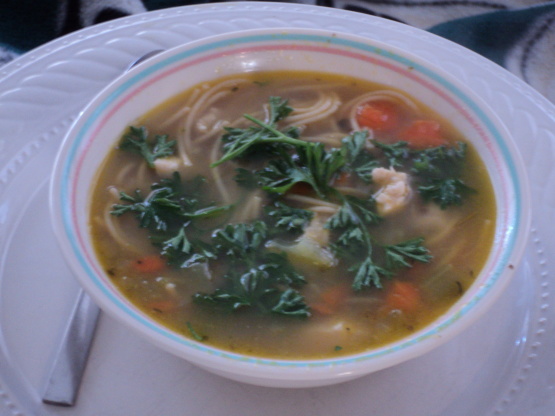 This chicken soup recipe is particularily good especially when you have a cold. Substitute and use turkey if it is available.

Top Review by Lorac
Excellent! Homemade chicken soup is our favorite cure-all. DH was on his way back from a business meeting after having had a very "unsettled" night probably the result of eating raw oysters. I wanted to try something different without losing the character of the classic version. Adding thyme and rosemary was the magic touch! I made the recipe by cooking bone-in chicken breasts in the water broth mixture with the bay leaf, thyme and rosemary. I removed them, chopped the meat and returned the chicken to the broth. I added the veggies and noodles and finished the soup as directed. DH just kept saying "oh, this is so good!" After 3 helpings he went to bed as a very happy man. Thank you Uncle Bill for this "magic recipe".
In a large heavy bottom cooking pot, heat olive oil and butter over medium-high heat.
Add onions, leeks, carrots celery and garlic and cook, stirring for about 3 minutes or until vegetables are slightly softened but not browned.
Add chicken broth, water, bay leaf, thyme and rosemary.
Bring to boil.
Cut chicken into bite size pieces and add to soup along with the diced mushrooms.
Add noodles and bring soup to boil.
Reduce heat, cover and simmer for 10 minutes or until noodles are tender and the chicken is cooked through.
Remove bay leaf and discard.
Stir in parsley, salt and pepper.
Adjust seasonings to taste.
Serve soup hot.
Refrigerate any unused portions.
NOTE: Homemade Chicken or Turkey Stock is so much better than purchased broth.