Uncle Bill's Asparagus Pasta Primavera
delicat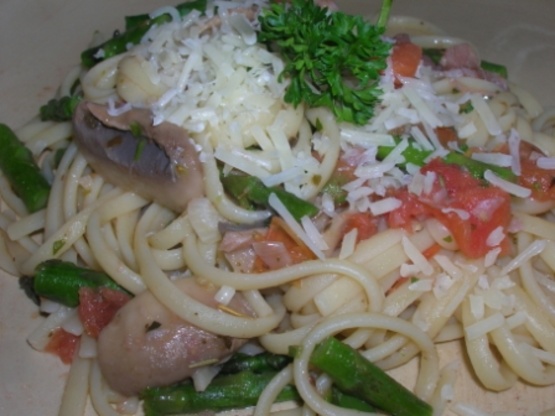 I developed this recipe several years ago, as I had an abundance of my own home grown asparagus and just had to find new ways of using the asparagus. I submitted this recipe to TASTE OF HOME to see if it would rate. Well, I was awarded a runner-up prize which made me feel real good. It can be found in the April/May, 2004 Taste of Home edition on Page 27, ASPARAGUS PASTA PRIMAVERA. There's plenty of fresh herb flavor in this delicious pasta meal that blends asparagus, ham, mushrooms and plum tomatoes. Sometimes I like to use spinach linguine or fettuccine.

Top Review by mila64
Left out the ham. Had to use dried rosemary and oregano but had fresh basil. only had canned mushrooms. I halfed the butter and doubled olive oil (extra virgin). The asparagus and tomatoes were perfect The tasted was unexpected - light and flavorfull. My family enjoyed it very much. With the fresh herbs I think I would have given 5 stars. I had to re-review this recipe after using it so many times not just for pasta but for asparagus side dish. It is definately 5 stars I have never added the ham but still great
In a large skillet, melt butter with olive oil over medium heat.
Add garlic; cook and stir for 3 minutes.
Stir in the asparagus; cover and cook for 1 minute.
Add the mushrooms, ham, basil, oregano and rosemary.
Cover and cook for 5 minutes or until asparagus is crisp-tender, stirring occasionally.
Stir in tomatoes, salt and pepper.
Cook 3 minutes longer or until heated through.
Meanwhile, cook linguine according to package directions.
Drain and place in a large bowl.
Add asparagus mixture and toss to coat.
Sprinkle with Parmesan cheese.