Unbelievably Moist Cornmeal Muffins
Brenda.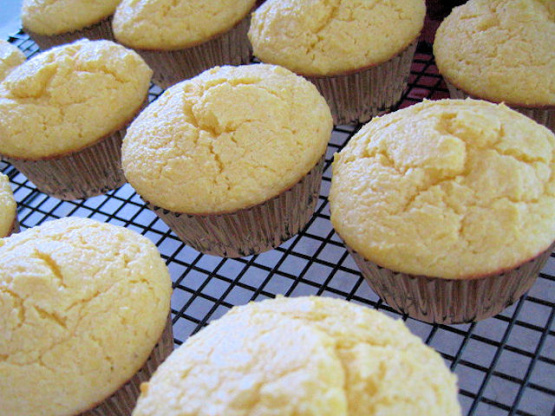 From a Gay Lea recipe flyer. Definitely not a low fat recipe. Tried numerous recipes previously with mixed results (too dry, too crumbly), but these are always mmmm....perfect! Enjoy with soup, salad, chili. Add grated cheese if you wish. Can be frozen.
Preheat oven to 400 degrees.
Grease or put muffin cups into a 12-muffin pan. (or use a 9-inch square baking pan).
Combine dry ingredients in a bowl: cornmeal, flour, sugar, baking powder, salt.
In another bowl, combine wet ingredients: eggs, sour cream and melted butter.
Add wet ingredients into the dry and mix well.
Put into muffin cups or baking pan.
Bake 15-20 minutes or until a toothpick comes out clean.