Unbelievable Healthy Andes Mint Chocolate Chip Ice Cream Machine
mikey ev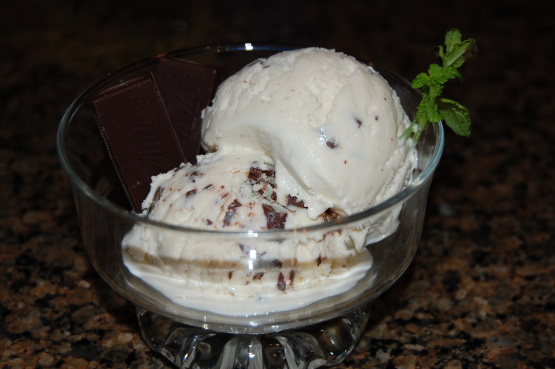 This ice cream is possibly the best ice cream I've ever had. I found it online and omitted the food coloring, just something unnatural about the green. I also used a little extra peppermint extract and Andes Mints instead of semisweet chocolate (I recommend freezing these so they're easier to chop). If you can, let the flavors mix overnight in the fridge like it says in the instructions, but if you get antsy like me, then let it chill at least 4 hours. As for freezing at the end, you can eat it once it is at your desired consistency. This recipe is awesome because even after it is in the freezer for days it never becomes hard or icy. Enjoy! ** Update: We made this for the holidays using crushed peppermint bark. It was amazing with the crunchy candy cane and chocolate! **

I was so excited to find this recipe, since Andes mint ice cream got taken off the market several years ago (can't remember the brand). This recipe is wonderful - creamy and freezes without turning hard, plus so delicious! I omitted the coloring also, as I prefer my mint ice cream white. The calorie count in this recipe is pretty high, given the sugar in the condensed milk. So I'm not sure I would call this healthy, even though the fat count isn't bad. But still, the recipe is so delicious, that I will definitely make this over and over again. Thank you for the awesome recipe!
2

cups fat-free half-and-half

1

(14 ounce) can fat-free sweetened condensed milk

1

(1 1/3 ounce) envelope whipped dessert topping mix
1⁄4 teaspoon peppermint extract

2

drops green food coloring (optional)

3

ounces Andes mints candies, coarsely chopped (about 10-15 pieces, to taste)
In a small mixing bowl, beat the half-and-half, milk, whipped topping mix, extract and food coloring on high speed for 3 minutes.
Cover and refrigerate overnight.
Pour into the cylinder of an ice cream freezer.
Freeze according to manufacturer's directions.
Stir in chocolate during last few minutes.
Allow to firm up in refrigerator freezer for 24 hours before serving.