Unbelievable Crockpot Apple/Onion Pork Butt
Easy!!! Tastes like nothing else you've ever tried. I developed this myself. When I take it to Parties as little sandwiches, they're gone. Served as a main dishes with roasted potatoes and homemade cranberry sauce, Delicious!!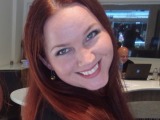 Bought a bone-in 3 lb. pork butt on mgr special and had it in the freezer... Upon looking at crockpot recipes all I could find were for boneless meat. So, stumbled upon this one and thought hey why not, as I had apple juice already and 2 big sweet onions. I did sear the meat, added salt, and 4 capfuls of apple cider vinegar at the end to give it more depth, but it was LOVELY. So tender and so good, after 5 hours on high. Served both mashed potatoes, and made mushroom gravy with half water and half apple juice/pork juice from the crockpot, and also some carrots with butter and dill. It is really great for someone who doesn't like super strong flavors. Also must add that "covering" the pork and onions is too much juice, so I will add less next time. Thanks for sharing!! :)
Place pork butt in crockpot. Stuff as many onion chunks as you can all around pork butt. Fill to cover with apple juice. Sprinkle with fresh cracked black pepper. Cook all night on high for lunch. Start early in the morning and cook all day for dinner.