Unbaked Peanut Butter and Honey Bars
Calee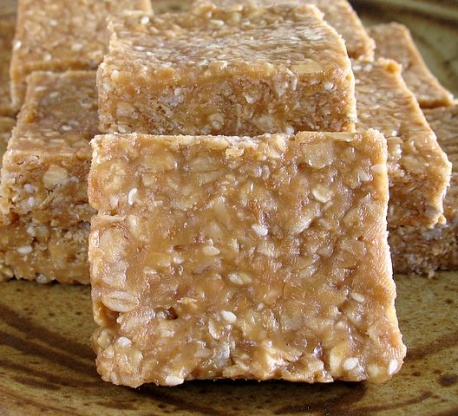 Peanut butter, honey and granola. A winning combination for my kids.

Great versatile recipe! I have way too much granola in the pantry, along with some local honey and natural peanut butter made from honey roasted peanuts that I needed to use. Used all honey instead of corn syrup. This recipe can vary a great deal based on the flavor of granola and peanut butter used, but is sweet and rich and best cut into small bars. Will definitely make this again. Thanks for sharing the recipe!
Measure granola in a bowl.
In a saucepan heat corn syrup with honey, just to boil.
Remove from heat.
Add peanut butter, vanilla and salt.
Stir until smooth.
Pover over granola and stir until evely blended.
Press into a buttered 8 in cake pan.
Chill until set.
Cut into bars.