Ameka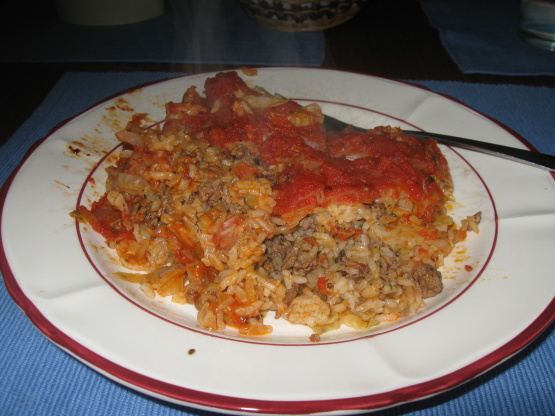 An easy casserole with half the work of the real thing.... no rolling !!
1

medium onion, chopped

453.59

g extra lean ground beef

4.92-9.85

ml salt-free Italian herb seasoning

118.29

ml long grain rice, uncooked

737.08

g tomato and basil pasta sauce

236.59

ml water

1419.54

ml shredded cabbage
Par-boil cabbage to soften, then drain.
Cook ground beef and onion in large no-stick skillet,.
Season to taste and add rice to mixture.
Use no-stick spray on a 9x13 casserole dish, layer 1/2 cabbage.
Spread beef and rice mixture on top of cabbage.
Cover with remaining cabbage.
Combine pasta sauce and water.Season to taste.
Pour evenly over casserole.
Cover dish with foil.
Bake in 350*F oven for 45 minutes.
Add extra water to keep it saucy. Check that rice is tender.
Uncover & continue baking up to 15 minute until done.