Derf2440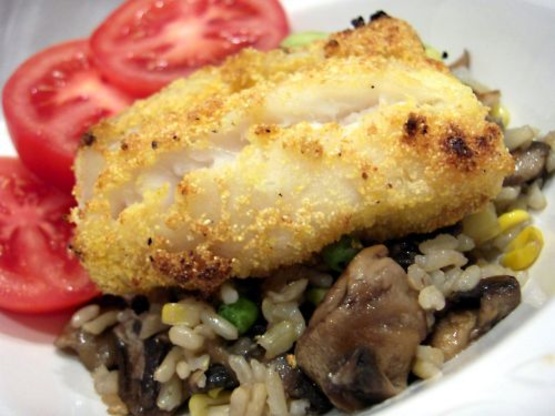 I have really been trying hard to lower the fat content of my foods for health reasons. In doing so I have been having fish a lot more often but I found myself missing the coating and texture of fried fish. I tried this as a test and the result isn't half bad if you realize that it's a compromise to keep your heart pumping. It won't work well with thin fillets as they cook too fast but with thicker fish (any kind, I used trout that I had in the freezer) this is a nice change from plain baked.

I made this as written using tilapia fillets. It was very simlpe and quick to prepare. A very good way to lower fat content.
6

(6 ounce) fish steaks (or 6 smaller whole fish)

1

cup cornmeal
1⁄2 teaspoon salt
1⁄8-1⁄4 teaspoon white pepper
butter-flavored cooking spray
Set oven to broil to preheat.
Mix cornmeal, salt and pepper in a shallow dish.
Rinse and pat excess water from fish.
roll fish in mixed cornmeal till nicely coated.
Place fish on broiler pan or baking sheet and spray lightly with the Becel Topping Spray or butter flavored Pam.
Place in oven (not too close to heat).
Broil till nicely brown,about 5 mins - depending on thickness of fish, turn fish and brown the other side.