Ultra Simple Porcupine Meatballs in Tomato Sauce
loof751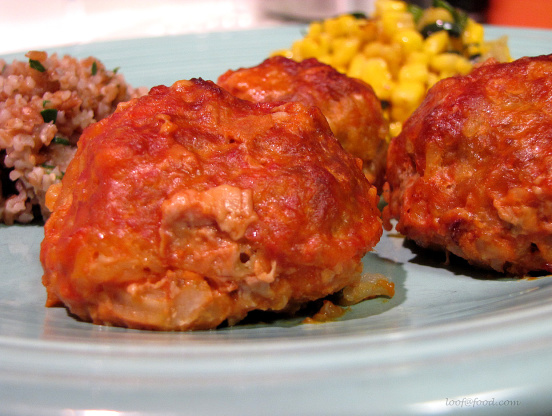 I looked around and all of the porcupine meatball recipes that have been posted include extra and (I think) unnecessary ingredients like Worcestershire sauce. This is the recipe my family has been using since I was a kid. They're very easy to make, taste great with ground beef or turkey, and freeze well. A couple of notes: if you use onion, chop it so it isn't only about double the size of the rice (or less). If it's too much larger it might not be as easy to form the meatballs and could be weird to bite in to. The rice you use should be uncooked Minute Rice, the kind that cooks in like 5 minutes or so.

This a good simple and quick version of porcupine meatballs. Makes a nice weekday meal as it's quick to the oven and made with pantry staples. I used ground turkey, otherwise made as directed. Thanks for sharing your recipe! Made for Spring Pick-A-Chef 2013
Preheat oven to 350 degrees.
Combine meat, rice, onion, egg and one can of soup.
Roll into meatballs that are approximately 2 to 3 inches in diameter and put in a 9x13 inch glass baking dish.
Combine second can of tomato soup with water (only about half as much as you would to make it into tomato soup) and pour half over the meatballs in baking dish.
Bake 45 minutes. Make sure you're keeping an eye on them. Cut one meatball in half to determine if it is cooked all the way through.
Heat remaining tomato soup and water mixture and pour over meatballs when serving.