Darkhunter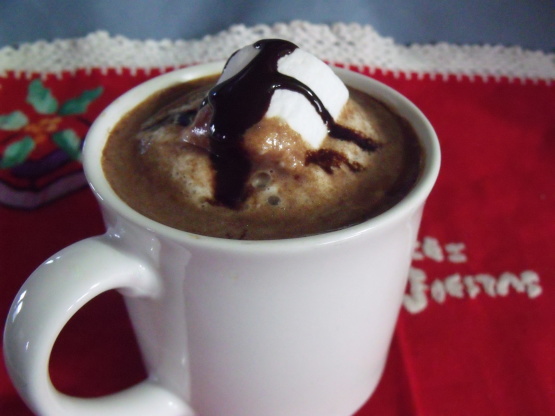 Home made and ultra good! If this recipe proves to be too rich for you, simply add more milk to adjust it to your preference.

Top Review by dandel
Just what I was looking for! I made an individual portion by quartering the recipe to: 1 cup milk (I used 1%), 1 Tbsp cocoa powder, 2 Tbsp sugar, and 1 oz chocolate. Put it all in a mug, microwaved for one minute, stirred with a fork, and microwaved for another minute. Easy and delicious.
Bring milk, cocoa powder and sugar to simmer in heavy large saucepan over medium-high heat, whisking frequently.
Add chocolate; whisk until melted and smooth.
Add salt; bring to simmer, whisking constantly until frothy.
Ladle into 4 mugs.
Sprinkle with marshmallows or dollop of whipped cream.
Makes 4 servings.