Ultra Moist Cheese Cupcakes
eabeler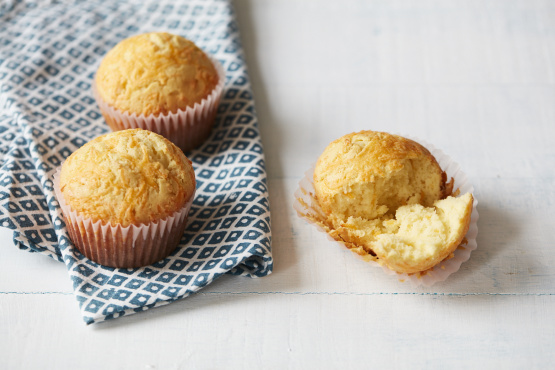 These cupcakes are my kids favorite snack to bring in their lunch boxes. They are so good that even the teachers would write me a letter requesting the recipe. Enjoy!

This was the first time I've made a cheese cupcake, and I was pleasantly surprised. The orange extract adds a really nice touch. The cakes were light and fluffy. I sent a good portion of them to work with my brother, and everyone there loved them..even a person who does not like cheese, said that they were excellent and ate more than one. I personally would like more cheese in them next time. Thank you!
In a large bowl, combine flour, baking powder and salt.
In a medium bowl, beat butter, sugar, eggs and extract.
Pour in flour mixture in thirds adding 1/2 can of sweetened condensed milk in between (beginning and ending with flour mixture.).
Add in grated Velveeta and blend well.
Put in muffin cups 3/4 cup full only.
Top with grated cheddar cheese.
Bake in 350 oven for 20-25 minutes.
Stays moist for 1 week in room temperature (covered in tight lid container).