loof751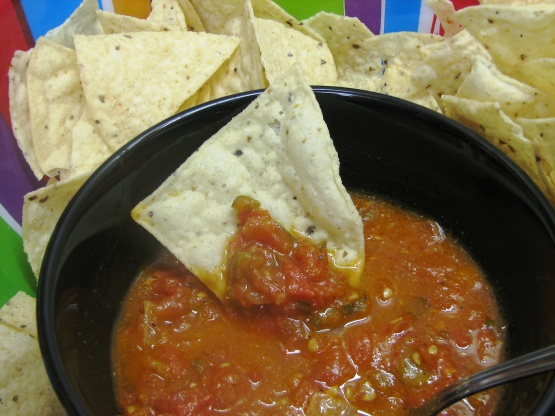 This is a warm salsa and is very spicy! For a less hot salsa use only 2-3 jalapenos and no serrano.

Mmmmmmm this was so good! I love salsa served warm and this was wonderful - and it's good cold too! I don't have a food processor so I just chopped the tomatoes, put them into a bowl, and used a whisk to mash them up to the proper consistency. It only took about 20 minutes of hard simmering to get the salsa to the perfect consistency. This is an easy and inexpensive salsa recipe that I will use over and over again - thanks for sharing!
Using a food processor, process the tomatoes to a chunky puree, do not liquify.
In a large skillet or frying pan, heat the oil and add the peppers and onions.
Saute until the onion softens and is clear 5-10 minutes.
Add the tomato puree and spices. Simmer for 20-30 minutes or until desired consistency.
Serve warm with tortilla chips.