BB2011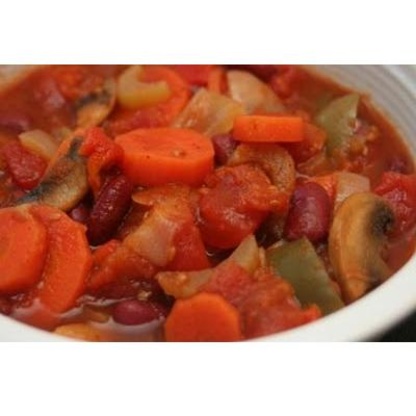 From Vegetarian Times February 2010. This chili is made with a base of seitan and mushrooms for a rich, thick dish that is, for lack of a better word, meaty! If you like your chili three-alarm hot, add an extra chipotle chile or two. Nutrition facts per one cup serving are listed as 276 calories, 24g protein, 5g fat (1g saturated), 33g carbs, 0mg cholesterol, 844mg sodium, 9g fiber, 4g sugars.

This is a good bean stew, I made it as stated, but it doesn't taste much like a "chili."
Heat oil in Dutch oven over medium-high heat. Add onion, and saute 7 to 10 minutes, or until beginning to brown, stirring often. Add garlic and chipotle chile, and saute 1 minute more. Stir in mushrooms; cook 3 to 4 minutes, or until softened. Add seitan, tomato paste, paprika, oregano, chili powder, celery salt, and 1 cup water; cook 3 to 4 minutes, stirring occasionally.
Add beans, carrots,tamari, and Worcestershire sauce. Cover, and reduce heat to medium-low. Simmer 1 hour, or until carrots are tender.