nbrush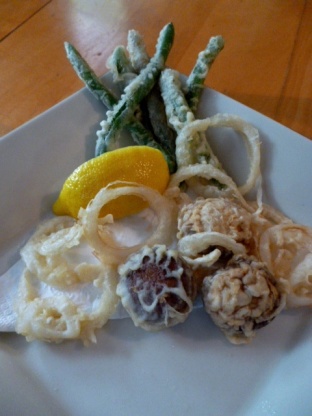 I got this recipe out of an authentic Japanese Cuisine book, I tried it because it was simple and seemed legit and it was WONDERFUL! My whole, non-cultural family loved it, even my brother who hardly eats anything (besides mac & cheese and McDonald's) said it was awesome!

To schmoot: Tempura is meant to be eaten with a dipping sauce or with noodles and broth. There's your flavor.
2

egg yolks
1 1⁄2 cups ice water
1 3⁄4 cups flour, sifted
In a large bowl place the egg yolks.
Add iced water gradually, stirring (preferably with hashi(chopsticks)) and blending well.
Add flour all at once, stir BRIEFLY; that is well enough to coat but leave the lumps and bumps!
To fry vegetables heat a large frying pan with a half-inch oil (or more if necessary) and heat on high.
Coat selected large vegetables in batter and fry for a minute or two on each side.