CoffeeB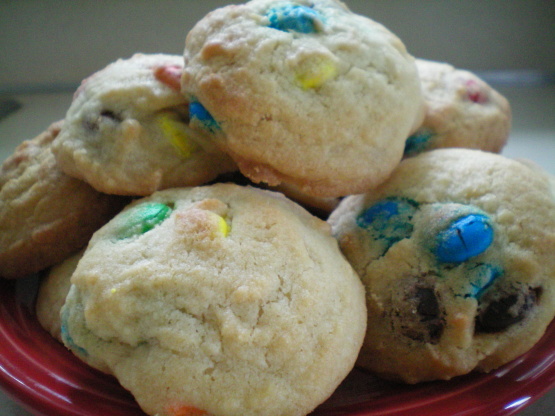 This is from an M&M's recipe booklet I picked up somewhere. This does not use peanut butter like a lot of other recipes on this site with M&M's. I hope you like them.

Yummy cookie recipe. We made these for our 2010 cookie trays for the holidays and everyone loved them. We used red and green m&m's and they looked so festive. These cookied were soft and full of flavor. Thank you so much for sharing this with us, its definately a recipe I will pull out all year long.
In a large bowl cream butter and sugars until light and fluffy; beat in egg and vanilla.
In a medium bowl combine flour, baking soda and salt; blend into creamed mixture.
Stir in M&M's (and nuts if using).
Drop by heaping tablespoonfuls about 2 inches apart onto ungreased baking sheets.
Bake 10-12 minutes in a 350F oven. (They should be lightly browned and centers still soft. Do not overbake or they will become flat and crisp after cooling).
Cool 2 minutes on cookie sheet and then transfer to wire racks to cool completely. Store in an airtight container.