Ultimate Lemon Pound Cake
Prep 25 mins
Cook 1 hr 30 mins
Here is another one of those 'triple lemon' pound cakes, & this recipe comes from the 2001 cookbook, Luscious Lemon Desserts. Be sure to read carefully both the ingredients list & directions before starting anything!
Directions
FOR THE CAKE: Making sure there is a rack in the middle of the oven, preheat oven to 300 degrees F, then butter & flour a 10" (12-cup) Bundt pan.
Sift flour, baking powder & salt together TWICE.
In a large bowl & with an electric mixer on medium speed, beat butter until light & fluffy.
Gradually beat in 1 3/4 cups of sugar, about 3 tablespoons at a time, & continue beating until light & fluffy.
Add the eggs, one at a time, beating well after each addition.
Reduce speed to low & add flour mixture alternately with the milk, in batches, beginning & ending with the flour.
Stir in 1 tablespoon of the zest & both extracts.
Transfer batter to prepared pan & smooth top with a rubber spatula, & bake for 1 1/2 hours or until a wooden pick inserted in the center comes out clean.
Remove from oven & let cool in the pan on a wire rack for 15 minutes.
FOR THE HOT SYRUP TOPPING: Meanwhile, in a small saucepan over medium-high heat, bring 1/2 cup sugar, 2 teaspoons lemon zest & lemon juice to a boil, stirring until sugar has dissolved.
Turn cake out onto the rack & IMMEDIATELY brush the hot syrup over the hot cake.
Let brushed cake cool to room temperature, then cut into wedges & ENJOY!
Reviews
Most Helpful
Very moist pound cake that comes out right each and every time.
This makes a HUGE, moist pound cake with just the right amount of lemon! I had to make a few adjustments to make it vegan but it didn't effect it at all. Don't skip the Hot Syrup Topping, it really makes the cake. Made for May 09 Veg*n Recipe Swap!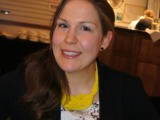 I normally take short cuts in recipes, but I followed this one EXACTLY!! About 30 minutes into cooking the cake was cooking out of my pan. A normal size bundt pan is NOT large enough for this cake!!! I told myself to put it in my long loaf pan, but I didn't listen. It's still cooking, so I can't review it on taste. If you make it, make SURE your pan is big enough!