Ultimate Instant Garlic Toast
Ms B.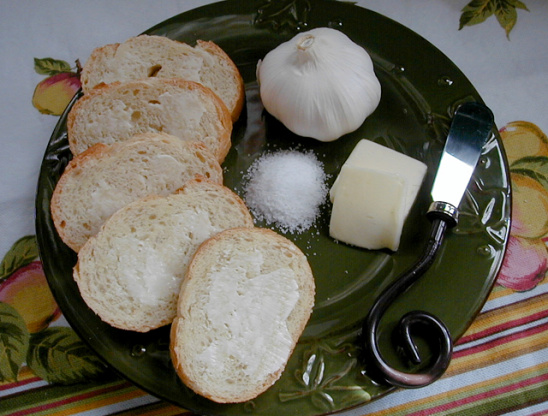 Got 5 minutes? You can make garlic toast with real garlic! This kick-in-the-teeth garlic toast will keep the vampires miles away. Once I tried this, I've never made it any other way. Simple, yet satisfying.

I could not believe how simple and great this was!!!! The garlic flavor was AWESOME!!!! Thanks so much for posting!!
1

slice bread (I use my homemade honey wheat oatmeal bread - recipe on Zaar)

1

clove garlic, fresh,peeled
butter (as needed)

1

pinch salt (teensy weensy) (optional)
Using your pop-up toaster, toast the slice of bread until it starts to brown.
Firmly grasp the garlic clove, and rub it across the toasted bread.
Continue rubbing until the entire clove of garlic has been rubbed into the toast.
Butter the toast lightly- or heavily- your choice.
Sprinkle with a teensy weensy pinch of salt, if desired.