Ultimate Grilled Cheese - Gotta Try This!
gailanng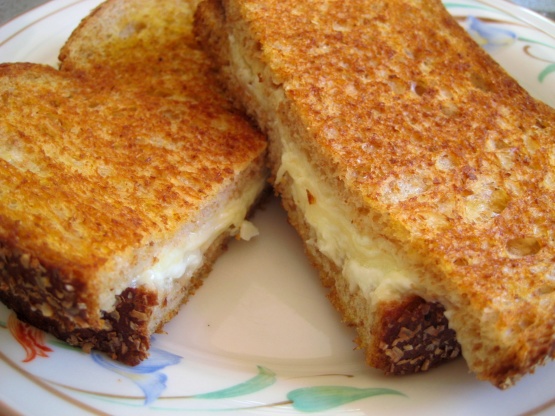 This scrumptious recipe was adapted from one posted in Quick Cooking's April 2000 issue. A fabulous, rich, twist on an old-time favorite! Fantastic served with fresh fruit and/or tomato soup! ENJOY!!

We make this one during the winter a lot!! It's so creamy and tasty, I doubt you could go back to just plain 'ol grilled cheese. Bummer part is my kids don't care for it - so they get plain 'ol grilled cheese!
In a mixing bowl, beat cream cheese and mayonnaise until smooth.
Stir in cheddar cheese, mozzarella cheese, garlic powder and Season-All.
Butter one side of all pieces of bread.
Place half of the buttered breads butter-side down into frying pan.
Top with 1/3 cup of the cheese mixture.
Top with the remaining bread, butter side up.
Cook on medium heat until golden brown on both sides.