Ultimate Great Northern Beans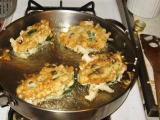 I usually cook these outdoors, suspending a cast iron pot over a campfire but honestly, they taste about the same on the stovetop. And the flavor is just great. If you've yet to adopt a cooked beans recipe, this might be the one you're looking for. It's right out of Appalachia.
Directions
Soak the beans in cold water overnight. Make sure that there is twice as much water as beans because they will swell up.
In a large cooking pot, pour in the cooking oil and toss in the smoked jowl pieces. Stir and allow them to sizzle over medium heat for 5 or 6 minutes. After they brown a bit, deglaze the pot with about 4 ounces of the chicken broth.
Add the onion and allow to simmer until the onion is tender, stirring often.
Rinse the beans in fresh water a final time and, after draining, add them, plus all the remaining ingredients into the pot. This should include the 48 ounces of water listed in the ingredients.
Boil, covered, over low heat until beans are tender, stirring occasionally (about 2-3 hours).
Serve with cornbread, fried potatoes, eggs and biscuits.
If you wish, you can use chunks of ham or bacon instead of pork jowl.
Most Helpful
I feel bad beacuase I have made these many times and have not taken the time to review them. This has become a staple recipe for me and is enjoyed by all of my family. I like to pair the beans with Mike Garcia's Sweet Cornbread, Recipe #83625. The sweetness of the cornbread with the spiciness of the beans compliment each other very well. I have never used hog jowl but have had great success with ham chunks and ham hocks. I would have loved to have had this recipe when I was a Scout leader, I think it would have been wonderful cooked over an open fire in a Dutch Oven alongside some peach dump cake (a sort of peach cobbler prepared in a Dutch Oven)!

Oh. My. Gawd. These are insanely good. Made exactly as directed, except threw in a ham bone with meat on it. Used the quick soak method (I forgot to soak them last night, but reeeaaaally wanted beans tonight!) and cooked it all together for 2 hours. Came out so freak delish!!! Just moved to the south and this was my first time making beans. OOH you made me look like a pro! Thanks so much!!

Absolutely a 5-star recipe. Boneman, I never cared for cooked beans but these are delicious. DH and perennial dinner guest also gave them a high-five. The rotel was a perfect addition. I used a leftover ham bone and didn't brown it. Just put all ingredients in the pot and let 'er rip. I waited an hour to add the rotel tomatoes because I know sometimes tomatoes make the beans hard. These beans were perfect, neither hard nor mushy. There was a lot of liquid but I will mush up some of the beans and make soup for later on. All the photos are misleading; the beans are beautifully white and red, very appetizing. Thanks so much for posting this recipe......Janet