Ultimate Garlic & Cheese Bread!
alligirl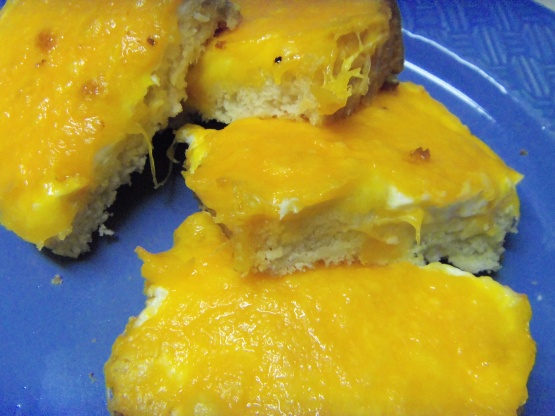 This is a super easy, always delicious recipe for garlic bread with a twist. I got the idea for this recipe when eating out one evening, but developed it on my own. The nice thing about this recipe is that I often use it when I have some bread or buns which tastes a little too stale for sandwiches - so it's a great way to use those extras. If you're going out to buy the ingredients, check the "day-old" rack at your grocery store! The bottled minced garlic can be found in grocery store's condiment aisle. Fresh minced would also work, but I don't recommend dried since the cream cheese overpowers the taste.) It's a great appetizer, snack or side dish for a meal (especially anything with tomato) and even the pickiest eaters in my family love it. It's always the first thing gone at family functions!

This was good, if a little strong. Perhaps plain cream cheese, when coupled with the garlic, or just the flavored cream cheese, without the addition of the garlic. We enjoy this as a snack, and will probably make it again! Thanks for sharing, Travelling Journal.
Turn the broiler on.
Lay out the bread or cut the rolls in half lengthwise.
Spread 2 tbsp cream cheese on each slice/half.
Thinly spread half a tsp of garlic on each piece.
Top with cheddar cheese (cover entirely.).
Broil until cheese is bubbling and bread is crisp - depending on the heat of your broiler and how crisp you like it, 2-5 minutes.
Remove, let cool slightly and enjoy!