Ultimate Double Chocolate Brownies
Ms. B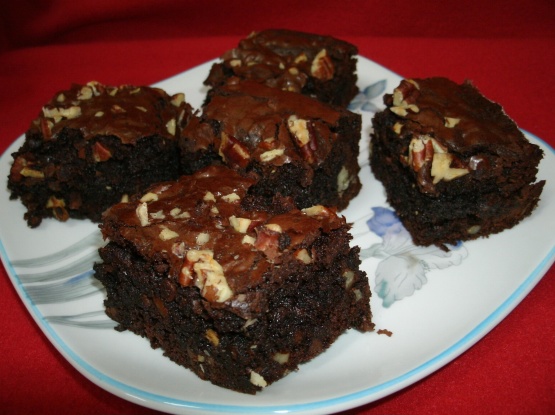 RICH, chocolately, yummy brownies! NOT for the faint of heart. The best one I've ever made, and I am a devout chocoholic. Mine never pull away from the sides of the pan like the recipe says. Be sure to test it with a toothpick in more than one place, because you might run into a chocolate chip that would make it appear that the brownies aren't done yet.

I would give this 10 stars if I could! My DSS asked me to make these for him instead of birthday cake! Amazing, thank you for sharing!
In a large bowl, combine cocoa and baking soda.
Blend in 1/3 cup melted butter.
Add boiling water, stir until well blended.
Stir in sugar, eggs, and remaining butter.
Add flour, vanilla, and salt.
Stir in pecans and chocolate chips.
Pour into a greased 13x9x2-inch pan and bake at 350 degrees F for 35-40 minutes, or until brownie starts to pull away from sides of pan.
Cool, cut into squares.