Ended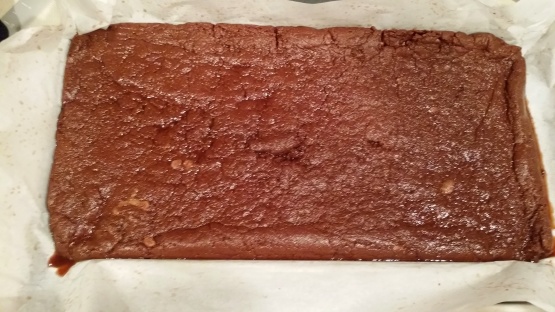 If you want chocolate fudge, this is it! I got this recipe from my mother-in-law. It's a Christmas staple in her house, and it's my husband's favorite fudge. It makes a lot of fudge, so it's a good recipe to use for gift giving. Prep time is approximate. The recipe can be credited to Mrs. Paul Kaczinsky.

Top Review by Ended
This recipe was working great until i got to the chocolate and marshmallows. I put them in and tried mixing in as best as possible. After not getting anywhere, I put it back on the heat and warmed it up a little to mix it in. At the point, it looked AMAZING and i couldn't wait. I then made my way to the pan and realized, THE VANILLA! So I put it back on the stove and put the vanilla in the pan. That was the worst mistake ever. It looks like slop now. It's not soaking in and it looks all grainy. I'm rating it 2 stars for now, but I could change it later depending on how it tastes. I am so bummed right now, but I hope it tastes good in about 30 minutes. We shall see...<br/><br/>**Update** After letting it sit for about an hour in the fridge, it's as hard as a rock and just tastes like a chocolate bar. I followed the recipe to a T, but messed up on the vanilla part. I doubt that one piece would have affected it that much though.
Preliminarily: prepare all the chocolate by chopping into small pieces.
Dissolve sugar and margarine in milk in a med. saucepan. Put a lid on it and heat on medium until it begins to boil.
Remove lid and stir for 5 minutes.
Remove from heat.
Add marshmallows, then all the chocolate and stir until smooth.
Add vanilla (and nuts).
Line both a 9x13 inch pan and an 8x8 pan with wax or parchment paper.
Divide and press fudge into pans.
Cool completely before cutting into small squares.