Ultimate Chocolate Chip Cookies
MegsX0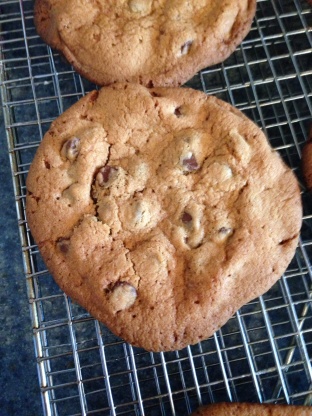 I first tried this recipe for my daughter's graduation reception. These were the first cookies gone and I had lots of people asking, "Where DID you get this recipe?!" I have tried lots of different chocolate chip cookies over the years and these truly are the "ultimate" in my family's opinion. Hope you enjoy them as much as we do.

I have to say I was quite skeptical of this recipe, because I am much more of a butter-gal than a shortening fan. But this recipe has converted me! It's been SO long since I've made choc chip cookies - the batter taste and baking smell brought back wonderful childhood memories. This recipe is very easy and the cookies turn out very moist and flavorful. I made not adjustments to the directions. Thanks Cindy Lynn! :)
Preheat oven to 375°F.
Combine shortening, sugar, milk and vanilla in large bowl.
Beat at medium speed of electric mixer until well blended.
Beat in egg.
Combine flour, salt and baking soda in small bowl.
Mix into creamed mixture at low speed until just blended.
Fold in chocolate chips and nuts.
Drop rounded tablespoonfuls of dough 3-inches apart onto ungreased cookie sheet (I prefer air-bake cookie sheets).
Bake at 375° for 8-10 minutes for chewy cookies (they will look light and moist--do not overbake), 11-13 minutes for crisp cookies.
Cool 2 minutes on cookie sheet.
Remove to wire rack.
Serve warm or cool completely before storing.