Ultimate Chicken Sandwich
Bobtail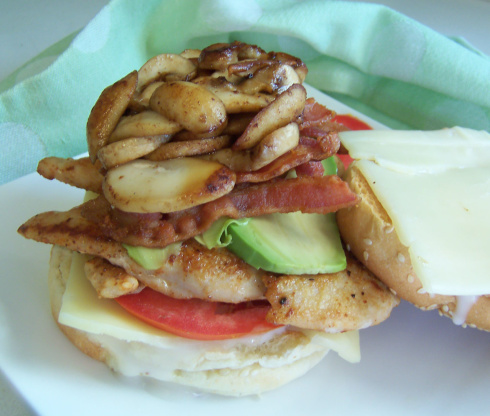 Definately a two handed sandwich, blackened cajun grilled chicken with extras! From a friend of mine weighs 100 lbs and eats like a horse!

DELICIOUS! I prepared as directed by the recipe, only using chicken tenders. From the optional ingredient list, I used tomato and avocado. I actually could not taste the avocado, so next time I will use onion. I also did not use two layers of chicken. If I had, I would not have been able to get it in my mouth LOL! I did find Ken's Sweet Vidalia Onion salad dressing and it is wonderful and divine on this sandwich. I cooked the bacon first, drained the bacon fat, cooked the chicken and then sauteed the mushrooms. Not only do you need loose pants on, but you need a bib (at least I did) and plenty of napkins! This is the ultimate chicken sandwich! Made for Cameraless Chef game 2008. Thanks Verelucky!
cajun seasoning

8

slice bacon, cooked in advance if possible

4

slice swiss cheese

236.59

ml white button mushrooms

2

hoagie rolls (aka hogie, sub or grinder rolls)
sweet vadalia onion salad dressing (Ken's brand here on the east coast) or honey mustard, if you can't find the other

Optional ingredients

avocado, slices
Sprinkle chicken breasts with cajun seasoning, then spray lightly with "Pam" or other cooking oil spray.
Grill over med to med low heat for 6-8 minutes or until done.
While chicken is grilling saute mushrooms in sm amount of butter.
If you haven't precooked the bacon, you can do it now.
Heat sub rolls in oven until hot.
When chicken is done assemble as follows per sandwich --
Spread sweet vadalia dressing or honey mustard on each half of roll generously.
Place one slice of swiss cheese.
Place 2 slices of cooked bacon.
Spread cooked mushrooms
Place 1/2 of chicken breast.
One slice of swiss cheese.
2 slices of bacon.
1/2 chicken breast.
Top of roll.
Put on loose sweatpants --
Eat!