My friend Cheryl gave me this recipe - the saying is around our town if Cheryl makes it, it's got to be good. She first made it for a superbowl party. My team wasn't playing, I was just there for the food:) .... and boy was it worth it! And to top it off it's SUPER easy, but tastes like you labored. If you don't like watching sports on TV, my suggestion is to make this, set it out for the guys mezmerized by your tv, and hit the mall. Chances are you'll be back before they even know you are gone. This recipe is simple, make it once, then next time, change it up, add different cheeses, or whatever strikes your fancy. But made as written..............yummmmmmmmmmmmmmmmmmmmmmmmmmmmmmmmm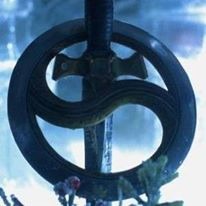 Delicious! I used pepper jack as suggested and we enjoyed the flavor it added to the dip. Made for PAC Spring 2010.
Cut top off of bread -- scoop out bread inside to make bowl (save the bread)
mix all other ingredients in a medium size bowl. Brush inside of bread bowl with butter. Pour/scrap cheese mixture into bowl. Brush outside of bread bowl with more melted butter, place bread top over mixture, wrap in foil and bake at 350 for about 45 minutes -- unwrap and continue baking til cheese mix is hot all the way through.
Use reserved bread to dip. also as the amount of dip gets lower inside. Cut off pieces of the bowl to use. I think we ended up having to use part of a sour dough baguette to have enough.