truebrit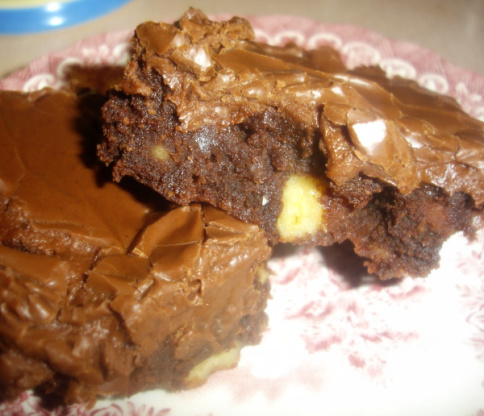 From the 1990 collection "America's Best Recipes". These are really good!

Top Review by Caryn
Wow, these were wonderful chewy fudgy brownies topped with a nice chocolate frosting. The recipe was easy to follow (one bowl cleanup), and only takes 25 minutes in the oven to produce a great dessert. I mixed up the frosting as soon as the brownies came out of the oven, and frosted the brownies while they were hot. Cooled the brownies in the refrigerator, and we had dessert. Thanks for another great recipe Inez! [Note: a toothpick won't come out clean after 25 minutes of baking because these a fudgy brownies.]
Preheat oven to 325F degrees.
Melt chocolate and butter together in large bowl (I do this in the microwave).
Add sugars; mix well.
Add eggs and vanilla, mix well.
Add flour and salt; stir until blended.
Add walnuts.
Pour into greased 13x9 pan; bake 25 minutes.
Let cool.
MAKE FROSTING-------------.
Melt chocolate and butter together.
Stir in milk.
Add powdered sugar.
Beat for 3 minutes or until smooth.