Ultimate Blueberry Muffins
Karen..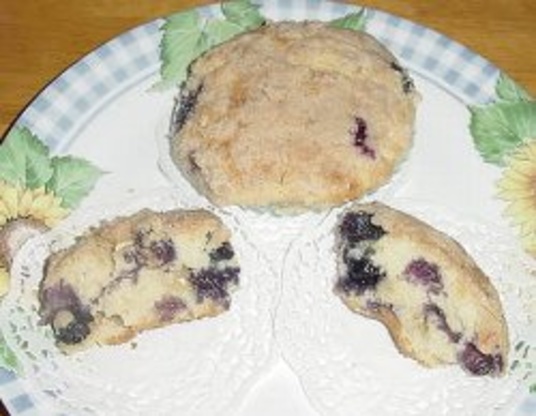 Very moist muffins with white chocolate chips.

These are absolutely delicious muffins! They were extremely moist and the slightly crunchy topping was marvelous. I got 9 muffins out of the recipe, and I did fill the cups to the top. However, I used cupcake tins. If there is something specifically called "muffin tins", maybe the cups are larger and you would only get 6. They still took 30 minutes baking time. The only thing I didn't follow exactly was the amount of white chocolate chips. I only had a cup, so that is what I added :) I am posting a picture that I am sure will not do them justice, but you can still see they look yummy! Thanks for a great recipe!
Preheat oven to 375 degrees F.
Grease muffin pan.
Make streusel topping.
In a small bowl, combine 1/3 cup granulated sugar, 1/4 cup all-purpose flour and 1 teaspoon ground cinnamon.
Cut in 3 tablespoons butter or margarine with pastry blender or fork until mixture resembles coarse crumbs.
Set aside.
Make muffin batter.
Combine flour, granulated sugar, brown sugar, baking powder and salt in large bowl.
Stir in milk, egg, butter and lemon peel.
Stir in 1 1/2 cups white chocolate chips and blueberries.
Spoon into prepared pan, filling almost full.
Sprinkle with Streusel Topping.
Bake for 25-30 minutes or until wooden pick inserted in center comes out clean.
Cool in pans for 5 minutes; remove to wire racks to cool.
Very tasty when served warm.
For added punch.
Melt remaining chip in microwave and drizzle over the muffins.