Ultimate Black Bean and Rice Soup
Kim127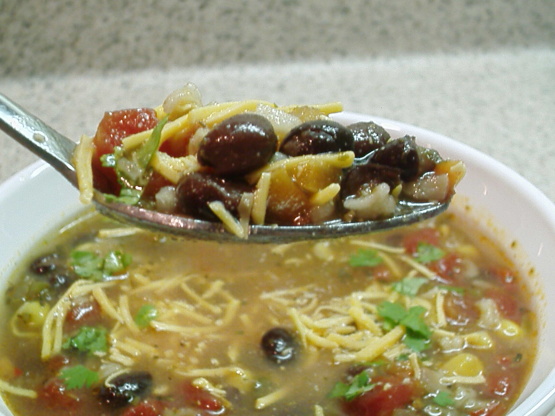 When I had my liver transplant in Denver, CO there was a Gunther Toody's Diner across the street from the hotel where I stayed. There was a Black Bean Soup on the menu that I just loved. After coming home to Oklahoma, I have searched, in vain, for a Black Bean Soup that came even close to what the diner served. I finally searched recipes and have come up with my version that best copies Gunther Toody's.

This soup was wonderful. I wasn't sure if I would like it because I'm a definite meat eater but I loved it and so did my DH. It is very filling. I also shared it with my brother and his family and they loved it too. They got the recipe from me and are making it for themselves tonight. I did make a few changes. We can't handle things to spicy so I didn't put in the jalapeno pepper and I only put in a 1/4 tsp of cayenne pepper. I used a regular can of corn and didn't drain it and regular brown rice instead of instant. I put it in after I let the soup start boiling and ended up simmering it for about an hour and 15 min until the rice was the tenderness we like. Thank you so much for the recipe. This is definitely going in to our regular rotation.
In Dutch Kettle, saute onion, celery, carrot, garlic, red pepper and jalepeno pepper in olive oil until soft.
Add beans, tomatoes, corn, water, boullion broth and spices. Simmer for 30-40 minutes.
Add instant rice to mixture. Mix well. Continue cooking 5 minutes or until rice is tender.
Chop fresh cilantro and stir into mixture before serving. Could top with a dollop of sour cream on top and a squeeze of lime.
Use Hunts diced tomatoes with green chilies or a similar brand. Rotel comes in a 10.5 oz can and is much spicer than Hunts. So if you use Rotel, pair it with a can of regular diced tomatoes.