Marlitt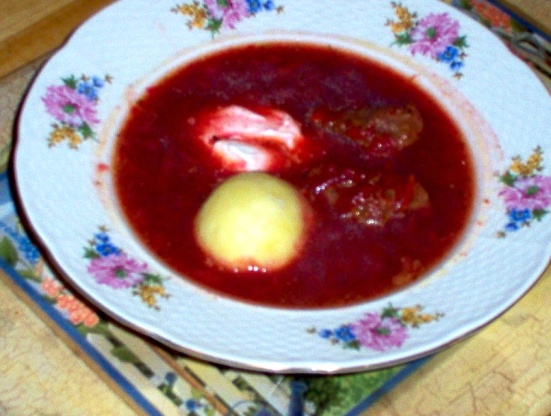 My grandmother always made this borscht in the fall and winter. She never made anything by recipe so this is my version. The kids and neighbors love it and always ask when I'm going to make it again. Or tell me I should have made a bigger pot.

An excellent example of how looks (and prejudice)can limit our horizons... I've never bought "real" beets before - much less with hugh leaves and roots still attached, or carrots with their long flowing leaves still attached - I hate cooked cabbage - to be quite honest I was given this recipe by a friend as a challenge. I was not very excited about it, but my pride forced me to give the whole adventure a try. Mostly because it was so far out of my element (guess I'm picky - don't really care for most vegetables outside of the usual cucumbers, lettuce, tomato - you get the picture ) So... this was like throwing stuff into a garbage can that was a soup pot. It had a pungent aroma (to me at least) while cooking. I did everything I was supposed to do to it - then let it sit overnight in the frig, because I just couldn't make myself eat it -after making it. The color didn't bother me nearly as bad as trying to fish all the stuff out of the "borscht" that was suppose to come out. I was certain this was so vile it would kill me - Boy - was I ever wrong. This was wonderful... I'm still stunned... AMAZING - just simply amazing. The description was right - I should have made a bigger pot! I could have never guess a more different outcome.
In a large Dutch oven or stock pot, brown bacon and render fat.
Add beef and brown.
Cut the onion, carrot and celery in half cross-wise and add to pot with beef.
Also add beets whole with skin, shredded cabbage and water.
Add pepper corns and bay leaves.
Bring to boil, then turn heat to medium low, cover and simmer 1 1/2 hours.
After an hour of cooking start boiling potatoes whole (skin on or off your choice) in a separate pot until soft (45 minutes).
When soup is ready turn off heat, with a slotted spoon remove the celery carrot and beets.
Discard celery and carrots or use for something else.
Leave beets on a separate plate or bowl until cool enough to handle (10 min).
Peel and grate beets back into the soup pot.
Add grated carrot.
Bring soup back to boil.
Add vinegar and lemon juice.
Cook 5 minutes longer.
To serve place a boiled potato in bowl and ladle soup on top.
Add a dollop of sour cream to each bowl.
Enjoy.