Ukrainian Standard Borsch
mianbao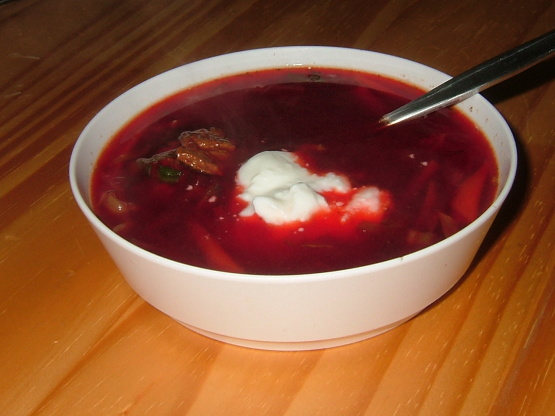 This standard recipe for borsch is the one most commonly used with slight variations to suit one's taste. It was customary for grandmother to cut the beets and other root vegetables into very thin strips. She preferred them that way. But they may also be grated in long shreds on a coarse grater with no sacrifice of quality to the finished product. For a well flavored borsch, it is best to use some fresh lean pork and a small piece of any smoked pork along with the soup meat of beef. Each of them contributes its own specific flavor and adds to the richness of the stock. Some Ukrainian Canadian homemakers add a small quantity of canned tomato soup to flavor and thicken the borsch slightly. If tomato soup is added, the flour may be decreased or omitted.

I thought this came out very well. I had been making beef stock, so used some of the stock and meat in this soup. I did not use all of the vegetables listed - no potatoes, celery or green beans. Next time, I will definitely make sure I have celery, but I didn't really feel the lack of potatoes or green beans. I used tomato juice and didn't thicken the soup, out of personal preference. The lemon juice and fresh dill make the flavor of the soup lovely. I added a spoonful of plain yogurt, which I thought was nice. Thank you very much for sharing this recipe with us.
Cover the meat with the cold water.
Add the salt, and bring slowly to the boiling point, then skim.
Cover and simmer for 1 1/2 hours.
Add the onion and beets; cook 10 to 15 minutes or until the beets are almost done. If young beets are used, cook them together with the other vegetables.
Add the carrot, potato, celery, and string beans; continue cooking for about 10 minutes.
When cooked white beans are used, they should be added after the cabbage is cooked to retain their white color.
Finally put in the cabbage and cook until it is tender. Do not overcook.
Stir in the tomatoes or tomato juice and the crushed garlic, if it is used.
Blend the flour with 3 tablespoons of cold water, spoon into it some soup liquid, and then stir into the borsch. If a thickened borsch is not desired, omit the flour.
Add a small quantity of the beet kvas or lemon juice or any other mild acid commonly used in borsch, taking care not to use too much. A good borsch should be pleasantly tart but not sour.
Season to taste with salt and pepper, and bring to the boiling point.
Flavor it with the chopped dill.
When ready to serve, add some thick sour cream or rich sweet cream. The amount of cream will depend on personal taste. It may also be served without cream. Some prefer to put the cream into each serving. This is the custom in central Ukraine.
When the borsch is to be reheated the next day, do not add any cream.
It tastes better when the cream is added just before serving.
Traditional Ukrainian Cookery.