Ugly Dog Saloon's Coleslaw Dressing
Tread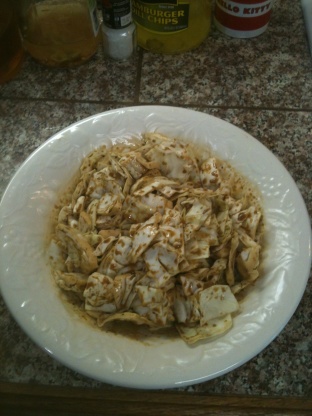 On a trip to New Orleans, we had lunch at a delightful little restaurant named the Ugly Dog Saloon and BarBQ. Those at our table loved their Cole Slaw and it's delicious dressing. The waitress graciously copied the recipe for us from the kitchen wall. Her version started with one gallon of mayonnaise, but I have scaled it down! Cooking time is for chilling, if desired.

I used to live in New Orleans, and The Ugly Dog was a venue i would service...anyway i have seen the recipe written on the back wall in person , and i can swear there was a dash of tobasco in the recipe. I have been making this slaw or over a decade and i have always added the tobasco. Just my two cents.
In small bowl, blend all ingredients, except the cabbage; whisk to combine thoroughly.
Chop cabbage into 3/4 to 1 inch chunks (authentic Ugly Dog Style!).
Combine with dressing.
Serve immediately or chill for an hour.